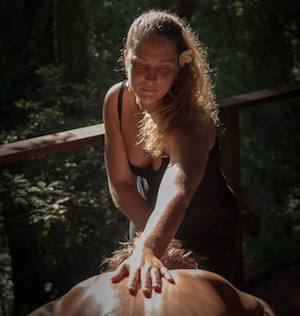 Irene
Kahuna Massage
This beautiful form of bodywork provides a holistic approach to healing by balancing the body-mind in it's physical, emotional and spiritual dimensions.
It uses the hands, the forearms and the elbows, and flow with music, to accommodate any needs of the clients.
Deep and soft tissue
Relaxation (Lomi Lomi)
Pregnancy Massage
Emotional and physical release
About Irene
Irene is a nurturing and fiery Italian woman who has travelled around the world deepening her yoga practice and bodywork since 2012. She studied Thai Massage, Zen Shiatsu Massage, Lomi Lomi and finally found her heart in the practice of Kahuna Massage in 2015.
Her experiences led her to have a deep passion for holding space, listening and most of all, connections.
Her knowledge melts together to offer a very unique experience.
Testimonials:
Kahuna with Irene is heavenly! She is sensitive, warm & open hearted in every moment of a session. Everything melts under her touch. Holly
I was priviledged to recieve a Kahuna massage treatment from Irene at a recent retreat and was moved by her energy and connection to her healing work. Beautiful technique and felt very relaxed, supported and held by her at all times, highly recommended. Gareth
I had such a profound healing with Irene. Major shifts and clarity occurred for me during and after the healing. I can t recommend her enough. Pollyana
On a recommendation I had my first ever KaHuna massage with the amazing Irene. I have never had a massage like it and would encourage anyone who wants a total mind and body experience in beautiful and serene surrounds to visit her. Sharon
Irene has the hands and spirit of angel. Her touch is intuitive and healing and she is a highly skilled massage practitioner I would highly recommend to all. Shian
Irene is fantastic! Caring and professional, her magical hands helped me to release all the tension in my stressed shoulders! I highly recommend Irene to all my friends! Julie
Kahunatemple.com - Fb: Kahuna Temple
@: kahunatemplebodywork@gmail.com - Ph: 04 13 297 156